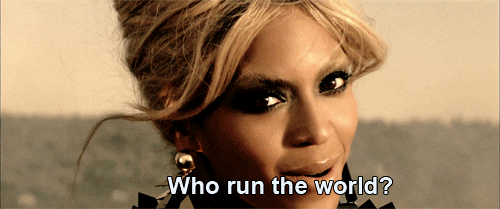 "Who run the world ? Girls ! " chantait Beyonce. Tu l'as compris, aujourd'hui, on t'a préparé notre top 15 des hymnes girl power ! Prépare ta playlist pour chanter sous la douche !
Run the World - Beyonce
On commence avec Queen B et son refrain entêtant ! Alors, who run the world ? GIRLS
I Don't Need a Man - The Pussycat Dolls
"I don't need a man to make it happen", bien dit Nicole !
Confident - Demi Lovato
"What's wrong with me if I'm confident ?" NOTHING
Man ! I Feel Like a Woman - Shania Twain
"Color my hair, do what I dare, ohohoho ...", avoue que tu déhanches sur ce tube de Shania Twain à chaque soirée ...
Independant Women - Destiny's Child
Encore Beyonce chante le girl power avec ses copines des Destiny's Child pour la BO du film Charlie's Angel.
Don't Call Me Angel - Ariana Grande & Miley Cyrus & Lana Del Rey
Cette fois, c'est au tour d'Ariana, Miley et Lana de reprendre le générique du remake de Charlie's Angels version 2019 !
No - Meghan Trainor
Non, c'est non et Meghan Trainor n'a pas peur de le crier haut et fort.
Can't Hold Us Down - Christina Aguilera
For all my girls all around the world ! 
Express Yourself - Madonna
Le message est simple : ne pas se brider et laisser sa personnalité s'exprimer !
Roar - Katy Perry
Et vous allez m'entendre rugir !
Stronger - Britney Spears
"Now I am stronger than yesterday" chante Britney en balançant des chaises !
That's My Girl - Fifth Harmony
L'hymne du girls band Fifth Harmony sur lequel on n'a qu'une envie : se trémousser !
Respect - Aretha Franklin
Le titre parle de lui-même non ?
Girl On Fire - Alicia Keys
"She's just a girl and she's on fire", un hommage à toutes les femmes du monde made by Alicia Keys.
Balance Ton Quoi - Angèle
Enfin une chanson francophone ! Angèle entre dans toutes les têtes avec son refrain "laisse moi te chanteeer d'aller te faire eeen ... hmmm" ! Mention spéciale au clip, réalisé par Charlotte Abramow : une pure pépite !
Et toi, c'est quoi ta chanson préférée ?
Please reload